Ben Eggleston
---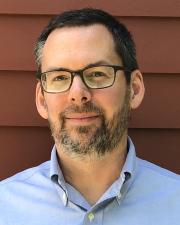 Senior Associate Dean, Humanities & Interdisciplinary Studies
He/him/his
Contact Info
To schedule an appointment, please contact Melinda Robinson:
Strong Hall, Room 200
Lawrence, KS
---
Biography
—
Ben Eggleston serves as the Associate Dean for several of the humanities and interdisciplinary departments in the College and oversees some College-wide processes such as Promotion & Tenure. From 2018 to 2021, he served as Associate Dean for Administrative Affairs, overseeing most faculty-affairs matters for all departments in the College.
He is also a professor in the Department of Philosophy, where he served as department chair from 2009 to 2012. His research focuses on ethical theory. He is the co-editor of The Cambridge Companion to Utilitarianism (2014), the editor of Utilitarianism: With Related Remarks from Mill's Other Writings (2017), the co-editor of Moral Theory and Climate Change: Ethical Perspectives on a Warming Planet (2020), and the author or co-author of 28 articles and book chapters. He is also the editor of Utilitas.
He has been honored with awards in recognition of his teaching and service, including a Don & Pat Morrison Foundation Award for Excellence in Teaching, a Keeler Family Intra-University Professorship, and a Service Award from the Office for Diversity in Science Training.
Eggleston earned an undergraduate degree at Washington and Lee University in 1994, a master's degree from the University of Edinburgh in 1995, and Ph.D. from the University of Pittsburgh in 2002.
Contact Dean for the following College units:
Classics
English
History
History of Art
Indigenous Studies
Jewish Studies
Leadership Studies
Museum Studies
Philosophy
Religious Studies
University Honors Program
College-wide Responsibilities
Promotion & Tenure
Progress Toward Tenure Review
Post-Tenure Review