Nicholas Syrett
---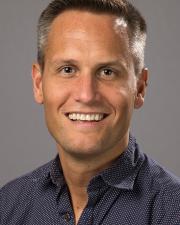 Associate Dean, Arts, Languages, & Interdisciplinary Studies
He/him/his
Contact Info
To schedule an appointment, please contact Melinda Robinson:
Strong Hall, Room 200
Lawrence

---
Biography
—
Nick Syrett is an associate dean in the College of Liberal Arts & Sciences and a professor in the Department of Women, Gender, & Sexuality Studies, which he served as chair from 2017 to 2022. He is also a coeditor of the Journal of the History of Sexuality.
Syrett holds an A.B. in Women's and Gender Studies from Columbia University and a Ph.D. in American Culture from the University of Michigan. He studies gender, sexuality, and childhood in the nineteenth- and twentieth-century United States. His articles appear in the American Historical Review, the Journal of the History of Childhood and Youth, the Journal of the History of Sexuality, and the Pacific Historical Review, among others.
He is a coeditor of Age in America: The Colonial Era to the Present (2015) and the author of three books: The Company He Keeps: A History of White College Fraternities (2009), American Child Bride: A History of Minors and Marriage in the United States (2016), and An Open Secret: The Family Story of Robert and John Gregg Allerton (2021). His fourth book, on the life and times of Madame Restell, nineteenth-century America's most infamous female physician, was supported by an ACLS fellowship and will be published in 2023 by the New Press.
Contact Dean for the following College units:
African & African-American Studies
American Studies
East Asian Languages & Cultures
Film & Media Studies
French, Francophone, & Italian Studies
Linguistics
Political Science
Slavic, German, & Eurasian Studies
Spanish & Portuguese
Theatre & Dance
Visual Art
Women, Gender, & Sexuality Studies
Open Language Resource Center
The Commons
College-wide Responsibilities
Committee on Evaluation of Chairs & Directors
Diversity, Equity, Inclusion & Belonging
FRESSH
GRF & REI